Structural Stone is one of the largest stone fabricators in North America and of them, is the only one providing Minority Certification. As a full-service stone fabricator, Structural Stone offers stone selection, estimating, drafting, fabrication and delivery. While the company specializes in custom cut to size dimension stone projects, stock items such as surveyor posts, pavers, cobblestones, curb, and slabs are available. All types of internationally sourced natural stone including brownstone, bluestone, limestone and marble are available however, the company specializes in regional granites. Networking with numerous domestic and international quarries, only the finest of all stone types are procured. Structural Stones goal is to strengthen the awareness of the many qualities of stone, to provide materials of only the highest integral quality, and to promote stone quarried and fabricated in the USA.
The 80,000 square foot fabrication plant sits on 8½ acres strategically located in an industrial park with immediate land, sea and rail access. The state of the art facility houses a full complement of equipment including an 11' Splitter, Multi Axis CNC Wire saws, CNC Table saws, Bridge saws, Multi-Wire Saws, and a state of the art Polishing Line. With a staff of 45 employees, Structural Stone has yet to see a project that exceeds capacity. This plant is responsible for the fabrication of some of the most significant stone projects in America since its construction in 1985 including the Four Seasons Boston, the DC Metro Rail, the Brooklyn Bridge Rehabilitation, The (former) AT & T Building in NYC, and the National WWII Memorial in Washington, DC.
Structural Stone is in the forefront of developing new ways to fabricate stone and continually purchases new technology and equipment to cater to the fabrication needs of each individual project. From drafting to management and throughout the plant, much of the staff at Structural Stone has a decades long history and experience in the stone industry.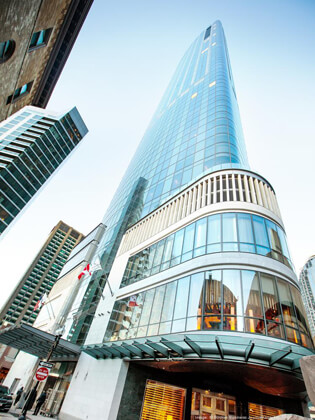 Product Divisions
Dimension Stone
Structural Stones' Dimension Stone Division provides architectural stone products to the building stone industry. Products include civic memorials, building cladding, paving, landscape elements and decorative works. The sales and estimating team works with owners, architects, general contractors and stone setters. The company is qualified to provide large quantities of stone for projects using curtain wall systems and to work with glazing contractors as well as thin stone for thin stone systems. Other key strengths lie in the companies' ability to work with project principles to achieve the most unique and complicated pieces, including hand carvings.
Curbing
Not to be confused with decorative / planter / custom cut to size curb, which are products that are fabricated regularly, Structural Stone typically does NOT compete in the STREET curb market, but can, however, fabricate it and therefore, IS able to provide it on a case by case basis. Please inquire regarding your project needs.
Slabs
Structural Stones' Slab Division inventories granites in ¾", 1¼", and 2" thicknesses in a variety of finishes including sawn, polish and thermal. Other types of stones, finishes and thickness are available through custom order. Slabs offer stone fabricators flexibility in fabrication for their countertop, paving, veneer and stair tread/riser orders among many other applications since the thickness and top finish is already complete.
To ensure customer satisfaction, Structural Stone performs quality control tests at least 5 times throughout project phases. Beginning with the block, foremen will analyze the blocks to confirm that it is free from cracks and unforeseen imperfections. Once the block enters the fabrication plant, the first operation is slabbing at which point the stone-cutter will evaluate each slab for cracks and unforeseen imperfections again. Once the stone is cut to size the stone-cutter will yet again inspect for imperfections before the finishing process begins. When the stone is finished; polished, thermal, etc., the stone cutter will ensure that the stone is cut to exact dimension and detail. After being crated and loaded, all pieces will be carefully accounted for to guarantee accurate and timely deliveries. Project Managers work closely with installers so that shop tickets are placed into production to assure fabrication and shipment in sequence
Structural Stone understands the requirements that project owners demand. As such, is wholly concerned with complete customer satisfaction and strives to produce as ordered, on time or ahead of schedule. The project managers and draftsmen are available to assist clients with questions throughout the project. Our goal is to satisfy owners, general contractors, and sub-contractors with quality products and to develop working relationships that will last.