Pavers and cobblestones* are ideal for commercial or residential exterior paving while cobblestones can be used for many landscape applications such as edging. By using different types of granite, many colorful patterns can be achieved. As with all other granite products, these pavers and cobblestones provide lasting beauty and the durability to withstand the harshest elements and wear like no other material.
PAVERS
Typical Sizes: 12" x 12", 12" x 18", 12" x 24", 18" x 18", 18" x 24", 24" x 24", 24" x 36", 36" x 36"
Typical Thickness: 3/4", 1 1/4", 2", 3"
Tolerance:1/4" +/- length and width
Finish: Polish, Thermal, or Honed top, Sides split, sawn or a combination of both Bottom Sawn
COBBLESTONES
Cube Standard Size: 4" x 4" x 4"
Cube Yield: Approximately 8/square foot
Landscape Regulation: 4" x 4" x 8"
Landscape Regulation Yield: Approximately 4.1/square foot
Regulation: 4" x 5" x 9"
Regulation Yield: Approximately 2.9/square foot
Jumbo: 4" x 7" x 10"
Jumbo Yield: Approximately 2/square foot
Tolerance: +/- 1/2" all directions
Finish: Thermal, split and/or sawn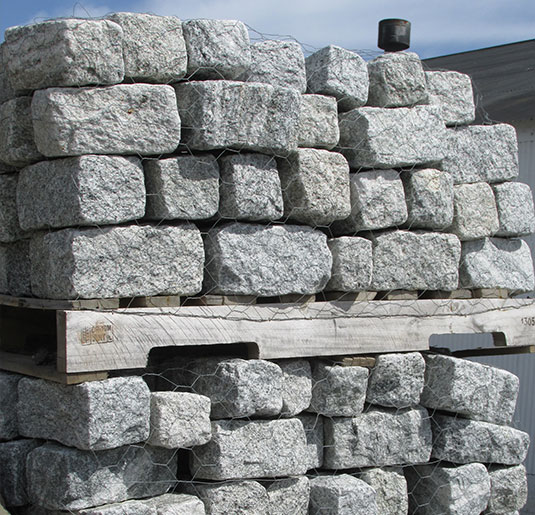 *A word about being environmentally conscious; In effort to protect the environment, Structural Stone maximizes the use of raw materials while minimizing waste. Rather than disposing of job overruns, excess material is split or sawn into pavers and cobblestones. Color and size inventory levels vary with stock from overruns.